Deborah D. Gray is the author of four books, "Attaching with Love hugs and Play," "Attaching in Adoption", "Nurturing Attachments."  and "Games and Activities for Attaching with your Child" 
---
Attaching in Adoption: Practical Tools for Today's Parents, by Deborah Gray, MSW, MPA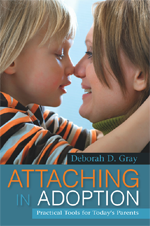 This book shows exactly what to do and say in order to attach to your child. It helps you, the parents, find the emotional stage your child is in—and what to do to help with bonding in that stage. It includes a checklist to help parents see how they are doing.
Since many children are younger emotionally than their years, the book is a guide to help parents so they meet their children's needs.
This book has chapters that will help parents bring out the best in in the rest of family members, keeping their families fair and balanced. It includes ways to work with the school and with extended family members.
---
Nurturing Adoptions: Creating Resilience after Trauma and Neglect, by Deborah Gray, MSW, MPA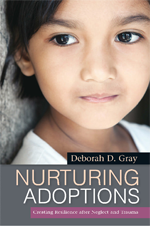 This book has a wealth of information for parents as well as professionals. It includes 80 pages of ways to set up the home and school for children who have been traumatized or neglected. It includes guides for parents who are helping children through the grieving process. Parents or professionals will be assisted by the material that describes what trauma looks like at every stage of development—and what to do about it.
For the professional and parent, the book includes schedules for moving children between homes so that they are not further traumatized. Professionals will find a homestudy template that assesses attachment.
Parents and professionals will find outlines of classic cases in which attachment, neglect, and trauma have all been treated. What to do in the office and in the home has been described, therapy session by therapy session.
Best of all, the techniques described will be effective for children with prenatal exposure to drugs and alcohol.
This is an upbeat book, in spite of the nature of information.[/fusion_text]
---
Attaching Through Love, Joy and Hugs—Simple Strategies to Help Build Connections with your Child, by Deborah Gray, MSW, MPA
This book,
just published, has photos that will help parents see the process of attaching to their children.
The book is written with an understanding that many parents or children will not have had the best of experiences prior to forming their relationships. This book describes ways to bring out the best in both parents and children—while enjoying the process.
The book has a section on brain changes that occur when children are highly stressed, along with ways to help children to move into safety and brain repair.
The book gives a guide to help children when they struggle with organizing, getting the big picture, self-monitoring, or stopping impulses.
The book includes a parent-friendly guide into the teen years, so that these years are filled with love. Finally, there is a behavioral checklist at the end of the book for a bonding and attachment assessment so that parents can track their progress.
This is a joyful guide to parenting, sure to inspire today's parents.
---